Security Leaders: Fit for purpose or behind the curve
From the rapid proliferation of cloud to the growing adoption of micro-services, DevOps, and APIs, new pockets of opportunity are opening up for threat actors to take advantage of. This e-Book contains analysis and findings from a global survey of IT security decision makers on how they are tackling these dynamic threats.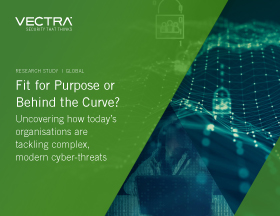 The genie is out of the bottle. Experts believe that the COVID-19 pandemic pushed many companies over a 'technology tippingpoint' which accelerated digitisation by several years.
Key highlights of this paper:
83% think traditional approaches don't protect against modern threats and that we need to change the game when it comes to dealing with attackers

79% of security decision makers have bought tools that failed to live up to their promise—citing poor integration, failure to detect modern attacks, and lack of visibility as reasons.
72% think they may have been breached and don't know about it—a third (43%) think this is "likely"
87% of respondents say recent high-profile attacks have meant the board is starting to take proper notice of cybersecurity
Over 1,100 organizations globally trust Vectra to detect and stop threats from becoming attacks